Arpeggios on the Piano (Android)
PIANO, Courses for Android, Fred Stinson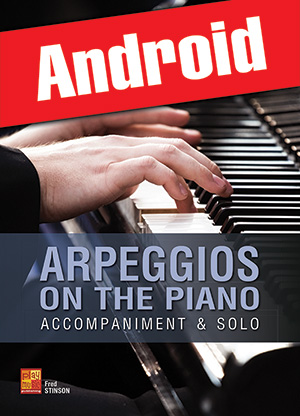 € 15.95 € 12.76 (-20%) Until 07/02/2023 23:59
Contents:
Multimedia pack for Android
Shipping:
Download onto tablet
Download the contents
Add to my list
The objective of this coursebook is to guide you in practicing arpeggios on the piano in a playful, not tiresome manner. Arpeggios are everywhere – in every musical style (in Blues, Jazz as well as in classical music), in accompanying as well as in improvising, in the right-hand as well as in the left-hand part. To the pianist, they are technically and harmonically indispensable. Therefore, as a beginning pianist, you have no choice, there is no way around them! This coursebook gives you the opportunity to learn or revise all the most important arpeggios: the major arpeggio, the minor arpeggio, the major seventh arpeggio (maj7), the minor seventh arpeggio (m7) and the dominant seventh arpeggio (7). For each you are given its composition and fingerings, as well as three technical exercises (to learn how to handle it) and seven musical applications (accompaniments and solos), which are to be played along to backing tracks. For every musical application you have five different recordings at your disposal, which appear on the mp3 CD in the following order: the piano alone – first at actual playing speed, then at a slower speed; the same piano part played along to its backing track; and finally the backing track alone – first at actual playing speed, then at a slower speed, too. You thus have the possibility to work at your own rhythm and pace, in accordance with your level and ability. Taken all together, the tutorial provides more than 5 h of musical practice (!)
Since you are dealing here with the Android version of the tutorial, the book and the CD have been replaced by a tablet-optimized multimedia pack containing musical sheets, texts and audios.
Original physical version and its potential derivatives:
Take advantage of a 75% reduction on the other versions of this course!
If you buy this course in its paper, PDF, iPad or Android version, you will get a 75% reduction on every other digital version of the same course. Act now!



€ 22.94
Save 8.77 €



€ 19.94
Save 8.77 €





€ 26.93
Save 20.73 €