Finest classical melodies arranged for clarinet (Android)
OTHERS, Courses for Android, Kevin Baker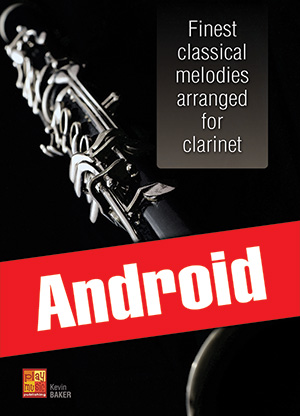 With its extensive and diverse repertoire, this tutorial allows you as a clarinettist to access the best of what classical music has to offer. If you choose to work with this tutorial, you will not only broaden your musical horizon and improve your playing technique, but indeed enjoy performing all kinds of masterpieces on your own clarinet. All the great composers are featured – with one or even several of their works, with concerts, symphonies and sonatas, with lieder, arias and overtures, with Renaissance dances, orchestral pieces, waltzes and ballets, but also with instrumentals such as preludes, nocturnes, etudes, marches, gymnopedies and much more. And in order not to lose your enthusiasm while practicing, each score is accompanied by 2 audio-recordings, which you will find on the mp3 CD attached to the tutorial. In the first recording, the clarinet-part is played along to the corres-ponding accompaniment. In the second, only the backing track (the accompaniment) can be heard, which gives you the possibility of taking up the score yourself. In total, you are invited to enjoy 174 recordings, which add up to more than 6 hours of musical practice(!)
Since you are dealing here with the Android version of the tutorial, the book and the CD have been replaced by a tablet-optimized multimedia pack containing musical sheets, texts and audios.
Original physical version and its potential derivatives:
Take advantage of a 75% reduction on the other versions of this course!
If you buy this course in its paper, PDF, iPad or Android version, you will get a 75% reduction on every other digital version of the same course. Act now!



€ 22.94
Save 11.96 €



€ 19.94
Save 11.96 €





€ 26.93
Save 23.92 €