Guitar Training Session - Jazz Solos & Improvisation (iPad)
GUITAR, Courses for iPad, John Badham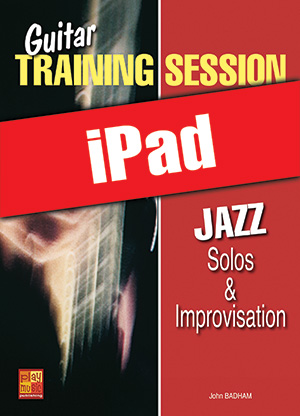 By offering you the possibility to practice jazz improvisations, this coursebook teaches you how to solo in this very particular style, letting you perform in a musical environment which simulates actual group situations. The enclosed CD contains 11 complete backing tracks (drums, bass & guitar) to which, as a beginning and intermediate guitarist, you can learn to play the numerous solos proposed in this coursebook contextually appropriately and, as an advanced intermediate or advanced guitarist, you will be able to play personal versions freely in many different jazz styles. Thus, while some of you will simply discover the pleasure of playing superb jazz solos, others will use the ideas presented in this coursebook to further their personal style and improvisational skills. The songs in this coursebook feature varying difficulties and cover diverse jazz directions, such as Jazz Swing, Latin Jazz, Jazz Fusion, Acid Jazz... Armed with this level of knowledge, you are fully prepared to meet all foreseeable future challenges.
Since you are dealing here with the iPad version of the tutorial, the book and the CD have been replaced by a tablet-optimized multimedia pack containing musical sheets, texts and audios.
Original physical version and its potential derivatives:
Take advantage of a 75% reduction on the other versions of this course!
If you buy this course in its paper, PDF, iPad or Android version, you will get a 75% reduction on every other digital version of the same course. Act now!



€ 14.44
Save 7.46 €



€ 12.44
Save 7.46 €





€ 16.93
Save 14.92 €