Djembe Solos
OTHERS, Coursebooks, Séga Sidibé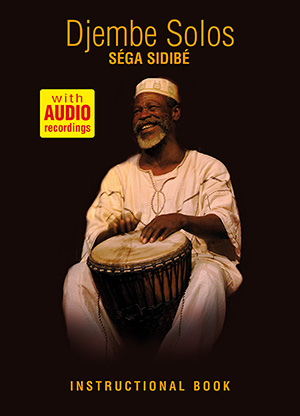 This book is available in 2 versions: with the recordings on a disk or as a download.
+ Book + mp3 audios
+ Book + 2 CD
Shipping:
By carrier/post (with tracking)
Download the contents
Add to my list
Séga Sidibé is one of the last masters garanteeing the malian djembe tradition. He reveals here a large number of solo phrases, variations, rolls, chauffes and resolutions for the rhythms Suku, Denba foli and Dansa, considered by the elders as being founding rhythms. The authors propose a learning method in 6 steps along with many approaches to help you develop your own personal expression beyond simply reciting. In this book, you will find scores in both conventional and simplified notations, foundation exercises and two CDs containing a recording of all phrases followed by accompaniment bars allowing you to practice them, a free solo example for each rhythm and long play-along tracks at slow, medium and fast tempos.
This item is also available as a download
Take advantage of a 75% reduction on the other versions of this course!
If you buy this course in its paper, PDF, iPad or Android version, you will get a 75% reduction on every other digital version of the same course. Act now!
See more offers