Assortment of Solo Jazz Piano Pieces (iPad)
PIANO, Courses for iPad, Roger Thompson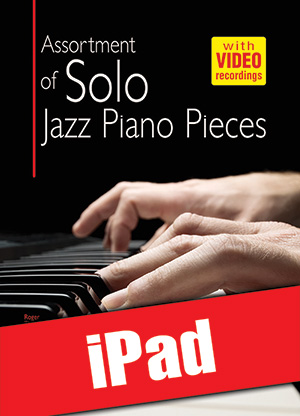 € 17.95 € 14.36 (-20%) Until 09/10/2023 23:59
Contents:
Multimedia pack for iPad
Shipping:
Download onto tablet
Download the contents
Add to my list
This assortment solely comprises solo jazz piano pieces. Here the objective is not to play with a complete band, but to learn how to bravely hold the fort alone – and that in a musical style which best suits soloing, namely jazz. The assortment includes a number of particularly original musical pieces, veritable etudes, which will give you the opportunity to study the harmonies, rhythms and tone colors typifying jazz and its numerous variants such as swing, bebop, bossa nova, blue jazz or ragtime. You may rest assured that here you will find something for all tastes and ages! Here you are taught which fingering is best suited to a specific playing situation. In so doing, you learn how to perform the many musical pieces that are part of this assortment in a technically flawless manner. The DVD pertaining to this tutorial gives you the possibility to carefully observe the jazz piano pieces treated therein, but above all it gives you the possibility to discover what their exact performance style should be.
Since you are dealing here with the iPad version of the tutorial, the book and the DVD have been replaced by a tablet-optimized multimedia pack containing musical sheets, texts and videos.
Original physical version and its potential derivatives:
Take advantage of a 75% reduction on the other versions of this course!
If you buy this course in its paper, PDF, iPad or Android version, you will get a 75% reduction on every other digital version of the same course. Act now!



€ 26.44
Save 9.87 €



€ 22.44
Save 9.87 €





€ 30.93
Save 23.33 €