200 Slap Grooves
BASS GUITAR, Coursebooks, Frank Nelson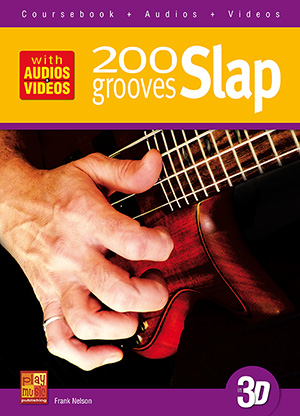 This book is available in 2 versions: with the recordings on a disk or as a download.
+ Book + Audios + Videos
+ Book + CD + DVD
Shipping:
By carrier/post (with tracking)
Download the contents
Add to my list
This method features no less than 200 slap grooves and bass lines in 1, 2 or 4 bar loops. You should consider each (more or less complex) line as a full groove to be played repeatedly independently of the others to assimilate it and help building solid «foundations». But this method is also and mainly designed to teach you how to evolve your grooves and develop an idea so as to avoid repeating yourself over and over. Then you will learn 20 basic grooves (plain and without any effect), each of them evolving in 10 different ways. The purpose is to help you develop all the playing techniques following a progressive curve (playing effects, rhythmic displacements, etc...). The CD will allow you to practise these 200 grooves with play-along tracks while the DVD's 400 recordings will demonstrate them both at slow tempo and in actual playing situation.
This item is also available as a download
Take advantage of a 75% reduction on the other versions of this course!
If you buy this course in its paper, PDF, iPad or Android version, you will get a 75% reduction on every other digital version of the same course. Act now!
See more offers