50 Funk Grooves for the Bass
BASS GUITAR, Coursebooks, Bernie Cooper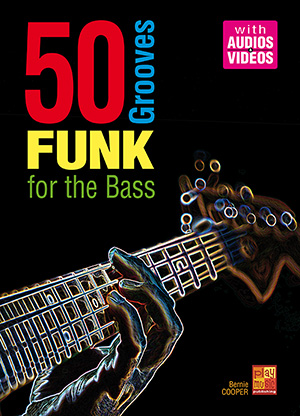 This book is available in 2 versions: with the recordings on a disk or as a download.
+ Book + Audios + Videos
+ Book + CD + DVD
Shipping:
By carrier/post (with tracking)
Download the contents
Add to my list
This method features 50 funk grooves for all bass players willing to have fun while practicing their instrument for hours. To make the approach of these 50 funk grooves easier, a preliminary chapter is entirely dedicated to the playing techniques (plucking of course, but also slap, palm mute, ghost notes, shakes, double stops, pull-offs, hammer-ons, slides...) as well as to the style rhythmic specificities (straight and swung sixteenth notes, sixteenth rests, staccatos...). The DVD demonstrates all these grooves played «in situation» at the actual tempo, then slowly. The MP3 Audio CD allows you to play them over long play-along tracks (from 3 to 4 minutes each, meaning more than 6 hours of music in total!), at actual tempo as well as at slow tempo (two tracks per groove). Then you will be able to practice at your own pace and in the best conditions. An ideal method to play actual complete grooves in the style of the greatests: James Brown, The Meters, Bootsy Collins, Parliament, The Commodores, Earth, Wind and Fire, Tower of Power, Maceo Parker, The Temptations...
This item is also available as a download
Take advantage of a 75% reduction on the other versions of this course!
If you buy this course in its paper, PDF, iPad or Android version, you will get a 75% reduction on every other digital version of the same course. Act now!
See more offers