Scales for the Bass Guitar in 3D
BASS GUITAR, Coursebooks, Steve Hall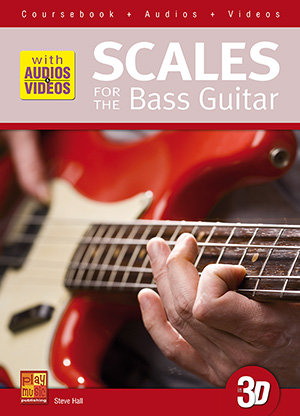 This book is available in 2 versions: with the recordings on a disk or as a download.
+ Book + Audios + Videos
+ Book + CD + DVD
Shipping:
By carrier/post (with tracking)
Download the contents
Add to my list
No more trouble with whole- and half-tone calculations, no more bother with scale transpositions and visualizations either! This coursebook provides fretboard charts (24 frets) for every existing scale (be it major, minor pentatonic, major pentatonic, blues, melodic minor, harmonic minor, whole-tone/half-tone diminished or whole-tone) and, what's more, for every existing key. It also provides the composition of each scale, along with specific instructions on how to handle it. The DVD attached to the coursebook makes learning even easier. It shows you all the positions of the different scales and the essential points of reference in the 12 keys. The above-average backing tracks provided on the CD give you the opportunity to put the newly-learned scales into practice – in every key and in every musical style(!)
​
This item is also available as a download
Take advantage of a 75% reduction on the other versions of this course!
If you buy this course in its paper, PDF, iPad or Android version, you will get a 75% reduction on every other digital version of the same course. Act now!
See more offers