50 Easy Bass Solos
BASS GUITAR, Coursebooks, Brad Tucker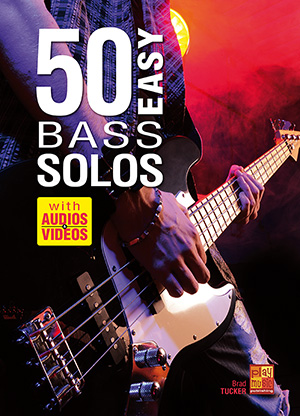 This book is available in 2 versions: with the recordings on a disk or as a download.
+ Book + Audios + Videos
+ Book + CD + DVD
Shipping:
By carrier/post (with tracking)
Download the contents
Add to my list
This method featuring 50 great bass solos, allows all the bass players to enjoy the experience of soloing in a band for a moment, an ever growing aspiration among bassists of all levels... To offer a wide and exciting range, these solos are very varied in regard to keys, nature (major or minor), feeling (straight or swung), density or phrasing richness. Lastly, a preliminary chapter briefly introduces the tools you need to know (scales and playing effects) to understand the 50 solos featured in this method, to develop and enrich them and even to create your own solos thereafter! The video DVD allows you to hear and most importantly to see these 50 solos in detail, at normal then at slow tempo, giving you the opportunity to observe the right movements, use the right fingering and play in rhythm! The mp3 CD contains as many play-along tracks as there are solos, that is 50 tracks featuring 2 different tempos: the "objective" tempo (normal) and the practice tempo (slow). The duration of these tracks is voluntarily long (4 to 5 minutes each, meaning more than 7 hours of music in total!), in order to let you practise in the best possible conditions.
This item is also available as a download
Take advantage of a 75% reduction on the other versions of this course!
If you buy this course in its paper, PDF, iPad or Android version, you will get a 75% reduction on every other digital version of the same course. Act now!
See more offers